Financial Safety
In observance of National Farm Safety and Health Week, FCS Financial is offering you an opportunity to win a shop-size first aid kit.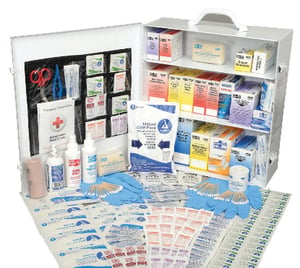 We know how easy it can be to overlook some safety issues during a busy harvest season, so we encourage you to do a check-up on your equipment before heading out to the fields.
We would also like to remind you to do a check-up on your financial safety and well-being. We offer a number of products to help you minimize risk and promote good health in your operation.
As you begin planning for next year now may be the time to look at changes to your loan programs and/or interest rate plans. Talk to an FCS Financial team member about

rate conversion options

to lower risk.
FCS Financial has a wide assortment of

fixed rate options

with terms up to 30 years. You may want to consider locking in a fixed rate to provide protection against interest rate changes.
FCS Financial also offers

crop insurance

to help you manage risk from swings in production and price and reduce exposure to financial loss. We have crop insurance experts on staff to help evaluate your needs and secure protection that best suits your operation.
Our team of licensed agents is also available to assist you with examining your needs for

life insurance. We offer both term and credit life insurance products to provide valuable protection for your whole family.
Complete the form below & receive an opportunity to win the deluxe first aid kit!

We would love to keep you informed about upcoming events, ag updates and FCS Financial news. We will not share or sell your email address. You may opt out of email subscriptions at any time.
Your safety is important to us. We wish you a safe and prosperous fall and welcome the opportunity to visit with you at any time about fixed rates, insurance products or other products and services that help ensure that you and your farm operation stay healthy and safe. Visit our Locations page to find your local office.
Register to win first aid kit